A Little Stone Distribution release of an ICE 3, Studio 37, Rhone-Alpes Cinema production, with the participation of Canal Plus, CineCinema. (International sales: Doc & Film Intl., Paris.) Produced by Louis Becker. Directed by Sophie Laloy. Screenplay, Laloy, Jean-Luc Gaget, Eric Veniard.
With: Judith Davis, Isild Le Besco, Johan Liberau, Edith Scob, Marc Chapiteau, Fabienne Babe, Christian Bouillette, Alain Beigel.
An aspiring pianist suffers at the hands of a seductive roommate from hell in "You Will Be Mine," a sensually appealing but fairly generic psychosexual two-hander from freshman helmer Sophie Laloy. Gallic femme fatale Isild Le Besco (who manages full-scale eroticism without ever actually undressing) stars as a deranged college student who invites her friend to share an apartment, and then harasses her with draconian house rules and a fatal lesbian crush. Though we've seen this scenario before, well-tempered acting and a gorgeous classical score make it watchable enough. Extremely Frenchified blend of sex and high art could entice foreign distribs.
When country bumpkin Marie (Judith Davis) moves to Lyon to study music and live with distant childhood friend Emma (Le Besco), the two get off to a reasonably pleasant start. But Emma soon begins snooping on, and salivating over, her naive roomie, while Marie eggs her on by wearing skimpy sleepwear and even masturbating once while practicing piano.
By the 30-minute mark, the two eventually hook up, and things between them then go downhill as Marie tries to free herself from Emma's far-reaching clutches. Even the presence of a fellow pianist-cum-lover (Johan Liberau) -- who prances naked around the apartment -- isn't enough to stop Emma from trying to get Marie into bed a second time.
Oscillating between the cutthroat world of conservatory musicians and a housemate horror story, Laloy's semi-autobiographical script (written with Jean-Luc Gaget, who co-scripted Icelandic stoner comedy "Back Soon") plays out rather unimaginatively like "Single White Female" meets recent Gallic hit "The Page Turner." But a few nuances, especially in Marie's varying attitude toward Emma, keep one guessing until the dramatic closing sequence.
Both Le Besco and newcomer Davis convincingly play their characters' love-hate relationship as they move from one seduction/rejection scene to another. D.p. Marc Tevanian keeps his lens glued to the actresses' faces, capturing their slightest change of mood and making up for the banality of the dialogue.
Soundtrack is rich with anthology pieces by Schumann, Ravel, Chopin and Bach. Director Laloy -- a sound engineer -- cleverly mixes these with catchy ambient f/x that maximize every squeak and creak of the oppressive apartment setting.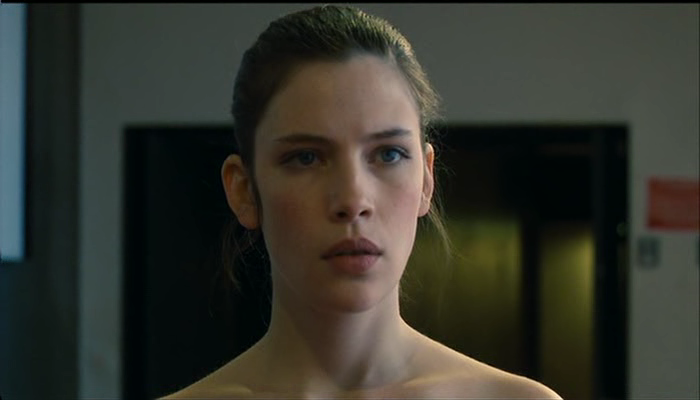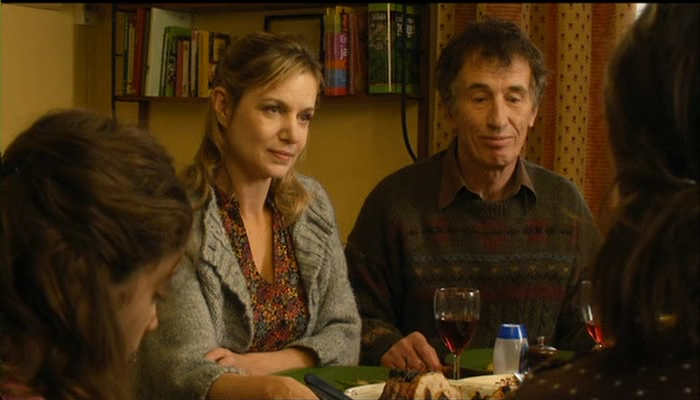 http://www.filesonic.com/file/46687374/JE TE MANGERAIS.rar
http://oron.com/8qppxxskn2gp/JE_TE_MANGERAIS.rar.html
Or
http://www.filesonic.com/file/46686312/JE TE MANGERAIS.part1.rar
http://www.filesonic.com/file/46686306/JE TE MANGERAIS.part2.rar
http://www.filesonic.com/file/46686292/JE TE MANGERAIS.part3.rar
http://www.filesonic.com/file/46686276/JE TE MANGERAIS.part4.rar
http://www.filesonic.com/file/46685114/JE TE MANGERAIS.part5.rar
Etiketler: 2001-2010, France, Sophie Laloy