You wouldn't necessarily expect a romantic comedy starring legendary tenor Luciano Pavarotti to be perfect, and Yes, Giorgio (1982) certainly isn't, but it's far from the flop that is its reputation. The decision to find a movie vehicle for the greatest tenor in the world at that time made perfect business sense, and producer Peter Fetterman thought he might have found suitable material in a story by fellow British author Anne Piper. The plot revolved around a famous opera singer who loses his voice during a U.S. tour and ends up falling in love with the female American doctor who cures him. Nothing too dramatic, nothing to unduly stretch the acting chops of an untried Pavarotti, who would need to rely on his charm and charisma to make the leap to the big screen from the opera stage. Fortunately, Pavarotti had plenty of both.
He also wanted to play a romantic part; he said so unequivocally in his autobiography and why not, since in opera he was the leading romantic tenor of his time. If a large man could love and be loved on the opera stage, surely the movies could find room for such a romantic hero. Luciano felt that his strong suit in opera - and he hoped in movies - was portraying love and romance, and the plot and character of Yes, Giorgio seemed to fit his dreams. And so Peter Fetterman journeyed to Italy to present his concept to Luciano. Fetterman previously had hoped to produce a new biographical film about Enrico Caruso (Mario Lanza made The Great Caruso for MGM back in 1951), but Pavarotti demurred, feeling the comparisons would be too awkward and the material no doubt would have required perhaps more acting finesse than the opera star was able to muster. So Yes, Giorgio was on the table, quite literally, when Pavarotti and Fetterman went to the famous Giorgio Fini's restaurant to discuss the project. After hammering out many details over a delicious meal and being enchanted by the parade of elegant desserts that came from the kitchen, the producer suggested that they name the tenor in the movie after the restaurateur. And so it was determined that Luciano Pavarotti would play opera star Giorgio Fini in his new movie.
Yes, Giorgio was filmed on a variety of locations including Los Angeles, Boston and San Francisco, including a memorable hot air balloon ride over California's Napa Valley that is one of the most-remembered scenes in the film. The romance between Giorgio and his beautiful throat doctor Pamela is played out against lush backgrounds and the knowledge that the opera star has a wife back home in Italy, a detail that didn't sit too well with the Catholic Church in the U.S. who put the film on its prohibited list.
The real appeal of Yes, Giorgio was Pavarotti playing himself, the most famous tenor in the world. To that end, producers hired famed opera director Lofti Mansouri to stage several elaborate opera sequences for the movie, and opera conductors Kurt Adler and Emerson Buckley appeared as themselves. If there is nothing else distinguished about Yes, Giorgio, the opera scenes make up for it. Selections from Puccini's Manon Lescaut, Ponchielli's Gioconda, Donizetti's Elisir d'Amore, Verdi's Rigoletto (La Donna E Mobile), and most memorably the incomparable "Nessun Dorma" from Puccini's Turandot (which would become Pavarotti's signature) banish all doubts as to why Luciano Pavarotti was tapped to make a movie. His voice was magic, and it's at its peak in Yes, Giorgio. He also sings several other classical works including Santa Lucia, O Sole Mio, and;Ave Maria, plus his version of I Left My Heart in San Francisco; along with the movie's love ballad ;If We Were in Love; which went on to receive an Oscar® nomination for Best Song (but lost).
Now that Luciano Pavarotti has passed on, Yes, Giorgio becomes more important as a film record of a great artist. For despite the formulaic romantic plot, we get to see Luciano Pavarotti at the top of his form, singing his heart out and allowing us--and future generations--to understand that there really was genuine magic in his voice. Bravo, Luciano! is the lasting message up on the screen for us all."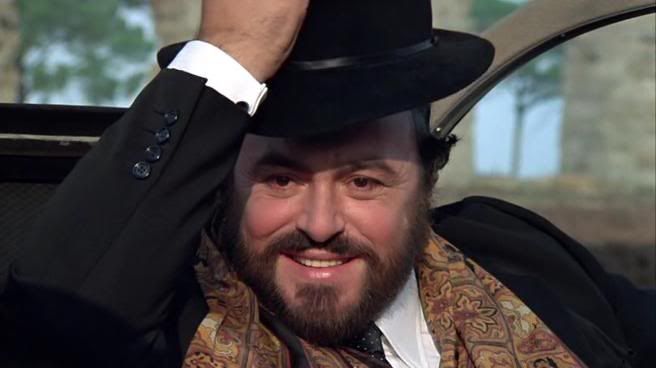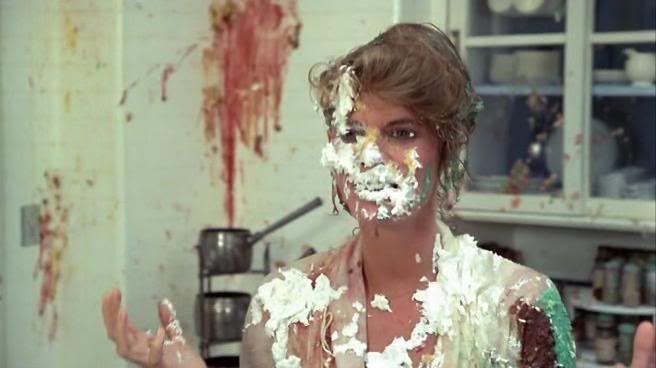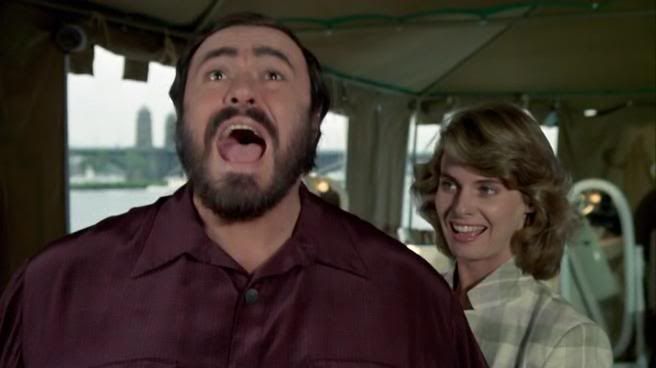 http://www.filesonic.com/file/48493328/Yes, Giorgio.avi
Or
http://www.filesonic.com/file/48489540/Yes, Giorgio.part3.rar
http://www.filesonic.com/file/48487870/Yes, Giorgio.part1.rar
http://www.filesonic.com/file/48487816/Yes, Giorgio.part2.rar
http://www.filesonic.com/file/48487736/Yes, Giorgio.part4.rar
Etiketler: 1981-1990, Franklin J. Schaffner, USA