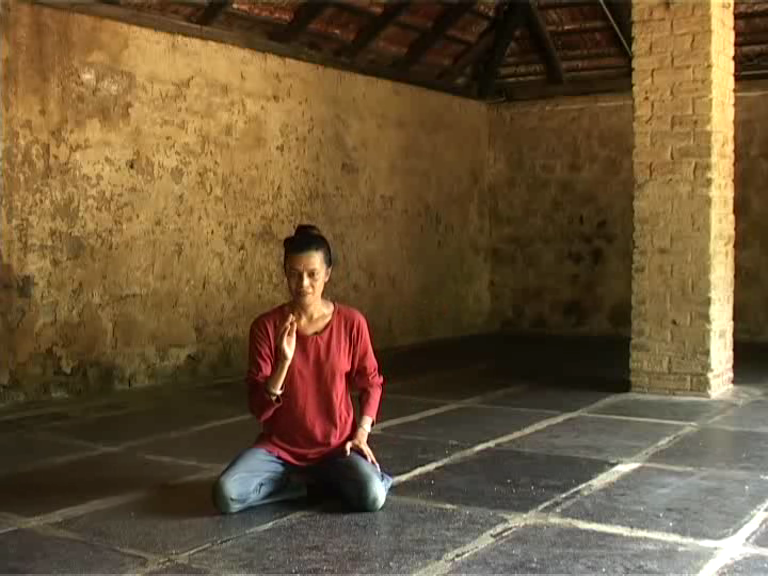 KP Jayasankar and Anjali Monteiro - Our Family (2007)
007, 56 mins, Tamil with English subtitles
Camera: KP Jayasankar, Script, Editing, Sound Design: Anjali Monteiro and KP Jayasankar
What does it mean to cross that line which sharply divides us on the basis of gender? To free oneself of the socially constructed onus of being male? Is there life beyond a hetero-normative family?
Set in Tamilnadu, India, 'Our Family' brings together excerpts from Nirvanam, a one person performance, by Pritham K. Chakravarthy and a family of three generations of trans-gendered female subjects. Aasha, Seetha and Dhana, who are bound together by ties of adoption, belong to the community called Aravanis (aka Hijras, in some parts of India). Aasha Bharathi, the grandmother, is the president of the Tamilnadu Aravanigal Association, Chennai. Seetha, the daughter lives with her male partner Selvam, in Coimbatore. Dhana, Seetha's adopted daughter also lives with her and shuttles between her adopted and her natal families.
The film juxtaposes the 'normality' of their existence with the dark and powerful narrative by Pritham- 'Nirvanam'; Nirvanam (Liberation) refers to the act of liberating oneself from the male body and transforming oneself to a female. This narrative bears witness to the tumultuous journey towards a reinvented selfhood, a journey fraught with violence, exploitation, affection and courage. The pains, pleasures and dilemmas of becoming the 'other' is the motif of the film. Weaving together performance, life histories and everyday life, it problematises the divides between 'us' and 'them'.
Awards
Special Jury Award in the Documentary Section, Signs 2007, Thiruvananthapuram, India (Click here for Newsreport)
Certificate of Merit and Special Mention, Mumbai International Film Festival 2008, India (link)
Jury's Citation: " Our Family for its compassionate and sensitive portrayal of the third sex - their bonding and their aspirations. The film traces their roots sourced from mythology combined with a mesmerizing one-person performance of the traumas and stigma experienced by their community"
Indian Documentary Producers Association ( IDPA) Gold for Best Script
[img]http://i942.photobucket.com/albums/ad263/0wn0red/vlcsnap-2010-11-02-08h09m52s203.png[/img]
Filesize: 514.5 MB
Filename: Our Family.avi
Duration: 00:49:28.5
Bitrate: 1265 kb/s
Resolution: 720x576, no crop
Framerate: 25.00 fps
Video / audio codecs:
Video: Xvid Video ripped on first on Handbrake then on FFmpegX
Audio: MP3 Audio
Audio sample rate: 48000 Hz
Audio Bitrate: 128 kb/s
Number of audio channels: Stereo, 2
Number of audio tracks: 1
http://www.filesonic.com/file/29883167/Our Family.avi
http://www.fileserve.com/file/9tsSK8f/Our Family.avi
Etiketler: 2001-2010, India, KP Jayasankar and Anjali Monteiro